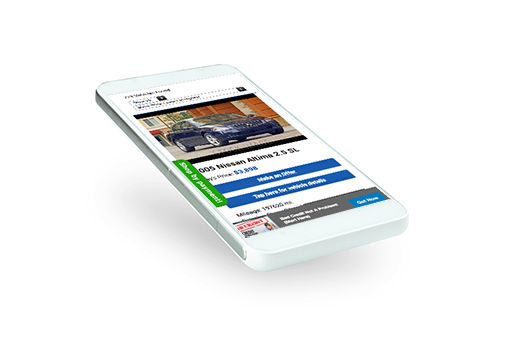 WE KNOW HOW TO BUILD EFFECTIVE MOBILE FRIENDLY WEBSITES
CUSTOMERS ARE LESS LIKELY TO STAY ON YOUR SITE IF IT'S NOT MOBILE FRIENDLY
Poor mobile website performance means lost sales opportunities for your dealership. We see it all the time. More than half of today's auto shoppers are on their mobile device and those users demand an exceptional experience with fast downloading speeds.
Our Design Philosophy
We want to know what your dealership is all about and what makes you unique when we build a site; however, in a time when auto shoppers are surrounded by a tremendous amount of information, it is extremely important for dealerships to be clear with their page layouts. We deliver a site and pages that highlight the dealer's inventory and make it easy for them to navigate the shopping experience. The design is not cluttered, is easy to read, easy to understand and converts extremely well. We safeguard against poor mobile performance by leveraging neatly, organized content, a tight design and proper use of white space. We keep it clean which makes if fast.
We've Created the First English to Spanish Dealership Website

At AIM we don't just create beautiful, customized, responsive website designs to appeal to your clientele— we help set your business apart from the rest of the automotive crowd by creating the best visual experience to communicate with your customers.