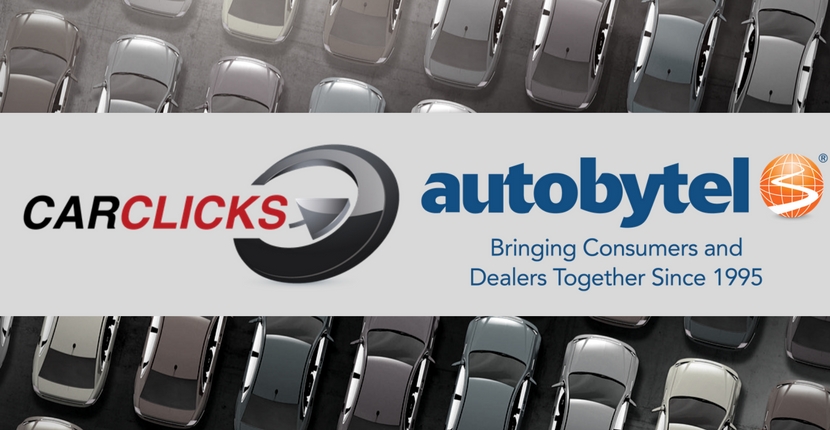 Considered as one of the most efficient digital advertising and linking programs in the auto industry, CarClicks has partnered with Autobytel Inc., to integrate its Autobytel Direct product powered by AutoWeb's high-quality traffic to CarClicks' existing automotive network.
CarClicks, a product of Automotive Internet Media, Inc. (AIM), provides valuable auto shopper traffic to hundreds of dealerships across the country. CarClicks promotes dealership inventory online to in-market auto shoppers and links them directly to the vehicle display pages of the dealership website to help dealers sell more cars, trucks, and SUVs.
"Online automotive has evolved and the need for digital agencies to provide innovative, results-driven solutions has never been more critical," said Jeff Coats, president and CEO of Autobytel Inc. "Autobytel is in pole position to deliver these products with proven results for engaging millions of consumers and driving quality car buying traffic to dealer and manufacturer websites. We are pleased to be partnering with a progressive company like AIM to drive premium, filtered, and qualified traffic to its clients."
CarClicks conducted an initial test with a select number of dealerships to validate the quality of the traffic provided by the Autobytel product.
"We tested Autobytel Direct with a few of our dealerships and were delighted with the quality of traffic it provided," said Tony French, President of AIM. "Our CarClicks program is dedicated to driving only the highest quality traffic to our dealer clients and Autobytel is an excellent addition to our network."
The majority of traffic provided by Autobytel is new vehicle focused. With ongoing cost-per-click increases from other digital tactics, dealers are continuously looking for quality advertising sources. With the addition of this traffic, CarClicks is poised to showcase dealership inventory and brands in front of an even larger audience of car buyers.
"Adding another quality new vehicle traffic source only strengthens the overall value of the CarClicks program," continued French. "Any time we can provide a better mix of potential new and pre-owned buyers to our dealer websites is a win for our clients."
CarClicks will add high-quality Autobytel Direct traffic to all of its dealership clients' initiatives to boost the frequency of visitors to its website properties. The company is confident that by giving more exposure and merchandising to all of its dealership clients' inventory — both new and used — its clients will likely be a part of a shopper's consideration set.
CLICK HERE FOR A 15 MINUTE DEMO
About Autobytel Inc.
Autobytel Inc. provides high quality consumer leads and associated marketing services to automotive dealers and manufacturers throughout the United States. The company also provides consumers with robust and original online automotive content to help them make informed car-buying decisions. The company pioneered the automotive Internet in 1995 with its flagship website www.autobytel.com and has since helped tens of millions of automotive consumers research vehicles; connected thousands of dealers nationwide with motivated car buyers; and helped every major automaker market its brand online.
Investors and other interested parties can receive Autobytel news releases and invitations to special events by accessing the online registration form at investor.autobytel.com/alerts.cfm.
About CarClicks
CarClicks is a pay for performance inventory marketing program. CarClicks promotes dealerships' inventory with priority on a network of 3rd party automotive shopping sites and search engines. Dealers pay a small fee when an auto shopper is linked from the 3rd party site to the dealership website.
About Automotive Internet Media, Inc.
Automotive Internet Media is a growing provider of digital marketing products and services for the automotive industry. They provide best-in-class products and services such as CarClicks, dealership websites, search engine marketing, pay per click advertising, search engine optimization (SEO), social media management, retargeting and display advertising, video services, lead generation, email marketing and consulting. Automotive Internet Media is headquartered in downtown La Grange, Illinois. For additional information please visit www.automotiveinternetmedia.com.