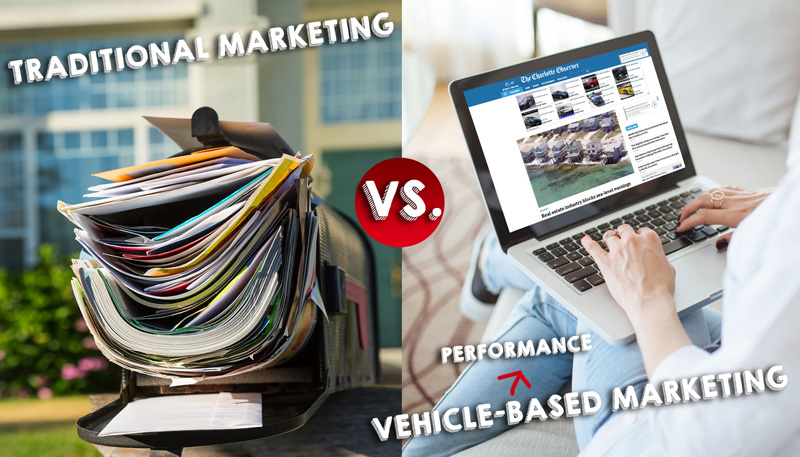 Traditional marketing or vehicle-based marketing?
Traditional marketing and vehicle-based marketing strategies are two forms of advertising separated by their focus. For dealerships, traditional marketing refers to promotion or advertising campaigns that can include radio, television, print, billboards, etc. Vehicle-based marketing places the focus of all promotion on the vehicles being sold. Dealers may choose to use one method, the other or both depending on their marketing philosophy.
Vehicle-Based Strategies
Vehicle-based marketing for dealerships is built around the idea that vehicle availability, color, equipment, and the price is the important message to communicate. Dealers usually choose either cars.com
, autotrader.com
or both to display their inventory. They might also have a pay per click strategy to drive traffic to their inventory.  More progressive dealers are utilizing more disruptive ways like performance-based vehicle marketing programs to get their vehicles in front of in-market auto shoppers.
Traditional Marketing
Traditional marketing methods have evolved over time, but still, have an important role to play in attracting customers to dealerships. Traditional methods are usually measured by volume, like newspaper's readership, a number of listeners for a specific radio station, viewership for a television station, etc. Traditional marketing focuses on how many people they can reach, rather than necessarily how many of the
right
people that can reach.
Vehicle Performance-Based Strategies
Targeting with performance-based marketing today is more advanced than most dealerships realize. Instead of leaving your sales destiny up to a couple 3rd party auto sites, higher volume and forward-thinking dealerships are leveraging vehicle performance-based marketing programs like CarClicks to get their inventory in front of more auto shoppers. Think of it like this, cars.com and autotrader.com are similar to advertising on NBC or CBS, whereas CarClicks is like advertising on the cable networks. Your inventory is distributed to a network of 3rd party automotive sites and search engines.  Sure, lots of people are watching NBC and CBS; but, millions of people are watching ESPN, A&E, Fox News, Comedy Central, Discovery, CNN, etc. The most important benefit about linking programs like CarClicks is its performance-based marketing. This means the dealerships only pays when an auto shopper has interest in your vehicle and clicks the vehicle on the search results page in the 3rd party site, then is immediately redirected to the vehicle on the dealership website.
Getting more Auto Shoppers to the Website
CarClicks is an inbound marketing program that attracts the interested auto shopper and lands them on the dealership website. More than 85% of all new car dealerships utilize Google AdWords to drive traffic to their site. AdWords is an effective tactic to get prospective shoppers to the website; however, the cost for effective keywords/shoppers are getting more expensive. CarClicks costs are locked in with no management fees.
Knowledgeable dealers know the way to increase showroom traffic is to dramatically increase and drive more serious auto shoppers to their dealership website. Before the phone will ring or the door will swing, 9 out of 10 buyers will need to visit the website. CarClicks performance-based marketing will drive more conquest auto shoppers to your website that will provide more exposure to your inventory and dealerships.
A Killer Vehicle Performance-Based Marketing Strategy.
The automotive industry and marketing techniques are constantly changing. Much like everything else in the world today, marketing methods have evolved. AIM has recently launched Data Driven Targeting that brings back serious, highly-engaged auto shoppers to your website that are ready to buy. CarClicks Inventory Marketing will drive more auto shoppers to your website, but the keys to winning online is to re-engage all serious automotive shopper with Data Driven Targeting and drive them back to your site to convert.
AIM has assembled the largest network of premium publishers in the automotive industry to drive back shoppers to your website. With over 9,000 premium publishers, the media buy is critical for your dealership's success.
Summary: Traditional marketing or vehicle-based marketing?
With all the digital options available for dealerships and marketing teams to tap into, the more traditional marketing methods still remain effective, but a combination of conquest linking programs like CarClicks combined with a targeted marketing program like Data Driven Targeting will produce the best results for your dealership.
Combining both online campaigns can help boost your brand's visibility and help it stand out amongst competitors who may be busy flooding the usual digital space. With the rapid rise of smartphones and other tracking tools, it has made it possible for dealerships to track CarClicks and Data Driven Targeting campaigns. If the goal of dealerships in today's crowded marketplace is to differentiate and get noticed, it makes sense to use as many channels as possible to attract your target market.